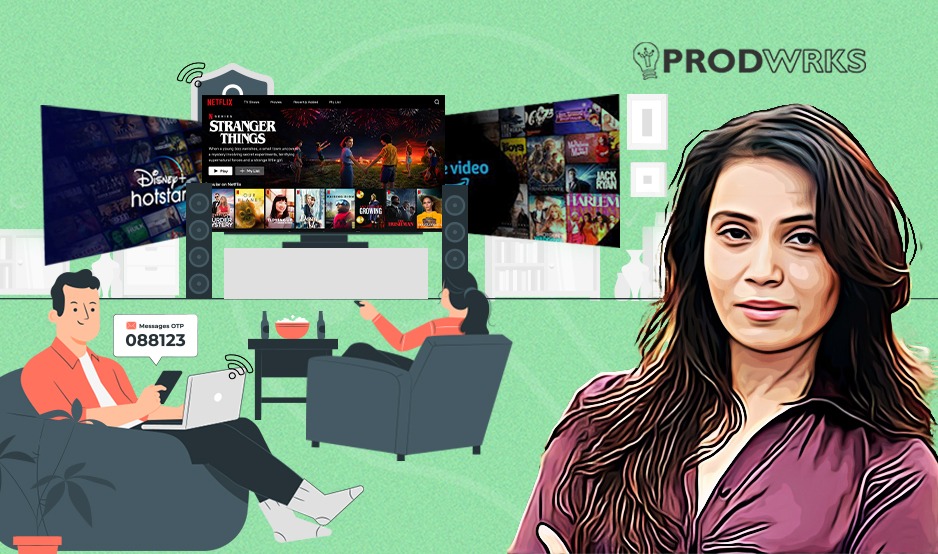 Recently, we saw a crackdown on password-sharing by Netflix and following in its footsteps, Disney+ also enforced strict policies this month to curtail multiple users sharing passwords and using the same account. As OTT platforms compete for market share, they seek ways to maximize monetization and decrease revenue leakage.
Strict password-sharing policies are one way to achieve this, as they force users to either create their own accounts or pay an additional fee for shared access. While this strategy has invited the ire of OTT subscribers, it is not deterring the OTT platforms and we foresee other major players following the example set by Netflix and Disney+.
To get detailed insights into password-sharing policies of OTT players and how they affect platform revenue and user behavior, we reached out to Divya Dixit, an independent strategy consultant for media companies who have been in leadership positions at organizations of the likes of ZEE5, Sony, UTV, Tata Docomo, ALTBalaji, to name a few.
Password Sharing: A Double-Edged Sword
Divya is a dedicated OTT consumer with multiple subscriptions and disclosed that she shares passwords within her family across international borders, like countless others across the world. While this practice may lead to potential revenue loss for platforms like Netflix, Amazon Prime, and Hotstar, Divya has a different perspective.
This unique perspective challenges the traditional notion of password sharing and piracy, showing it as a complex yet potentially beneficial aspect of the OTT landscape.
User Behavior in India's OTT Landscape
Reflecting on Netflix's strict password-sharing rules that led to frustrated users resorting to piracy or turning to illicit websites for content, Divya says that OTT platforms must be extra careful when it comes to price-sensitive markets like India.
As a side note, Divya also dissected Inox and PVR's attempt to boost weekday footfalls with a movie subscription plan (PVR-Inox Passport – Rs. 699) that lets a subscriber watch up to 10 films in a month on weekdays for Rs 699.
Commenting on the subscription plan, Divya said, "First of all, what we need to understand is that OTT and cinema will coexist, its broadcast, that is threatened by OTT. But, this plan itself has basic flaws. It's 699/- per head, while an OTT single subscription can cost the same for the entire family. It's only on weekdays, and very few people have that kind of time. It has a limit of 10 movies per month, unlike unlimited content on OTT."
Strategies to Combat Password Sharing
While addressing the prevalent challenge of password sharing on OTT platforms, Divya proposed a strategic approach focused on incremental plans.
This approach ensures that consumers still contribute financially, albeit not at the full subscription price, while acknowledging indirect organic promotion that occurs through shared passwords.
Divya also highlights the lack of effective methods to end the password-sharing practice, asserting that geofencing via VPN tracking remains the sole viable approach. However, she also highlights a potential downside, as stringent measures might alienate customers, leading to potential subscription losses.
Divya emphasizes the challenging task of individual customer tracking, underscoring the need for dedicated tech teams to manage VPN monitoring effectively.
Pricing Strategies and Market Penetration
Discussing pricing strategies, Divya applauds Netflix's mobile plan but advocates for a more localized approach.
She also praises Amazon India's comprehensive content strategy, language inclusivity, and innovative revenue models like live channels.
Divya predicts a promising future for OTT platforms, asserting their eventual replacement of traditional broadcast mediums.
With digitization permeating every aspect of entertainment, Divya believes that OTT platforms will coexist with the cinema-theatre experience and continue to evolve.
Divya envisions the integration of technologies like Augmented Reality (AR), Virtual Reality (VR), interactive shows, and gamification, transforming the viewer experience in the next five to six years.