A survey by ManageEngine, the enterprise IT management division of Zoho Corporation has revealed a surprising detail that a vast majority of product purchasing decisions are now made by non-IT folks in an organization, especially after the pandemic.
The observations were published in The IT at Work: 2022 and Beyond study by ManageEngine. For this study, the company surveyed 3,300 decision-makers (DMs), IT decision makers (ITDMs), and business decision makers (BDMs) in essential business functions across organizations in 18 countries, including India.
Who Holds Purchasing Power in an Organization?
According to the survey, 91% of decision makers (DMs) reported that collaboration between IT teams and other departments has increased over the last two years.
Perhaps it is because of this collaboration that 97% of business decision makers (BDMs) said that their department has autonomy when it comes to making technology decisions.
The figure above shows the break-up of decision making freedom that non-IT folks enjoy. This autonomy relates not only to purchasing apps and software (73%) and purchasing devices (57%) but also to hiring tech talent (54%).
This shows that non-IT departments often have notable freedom regarding the technology decisions they can make. Apparently, non-IT departments are now playing a bigger role in the organization when it comes to IT decisions.
Speaking about the results of the survey, Shailesh Davey, Co-Founder And Vice President Of Engineering At Zoho, said, "Our primary aim with this study was to shed light on the current state of ITDMs and the need for IT democratization and empowerment for a well-knit organization today."
"The swift acceleration of digitalization catalyzed by the pandemic has, without a doubt, made the role that IT plays in enterprises more vital than ever. The study's findings also demonstrate how the involvement of ITDMs in implementing business decisions can boost organizational performance as a whole," he added.
A possible reason for the increase in collaboration and the variety in decision-making authority across the business might be the decentralization within an organization's IT structure.
More than two-thirds (68%) of all respondents of the survey agree that non-IT employees in their organization are more knowledgeable about IT than they were before 2020. With technological knowledge growing in non-IT departments in many organizations, IT teams may potentially get left out of decision-making.
During COVID, when organizations started adopting a flexible working model, nearly a quarter (24%) of Indian ITDMs felt they were either not consulted at all or consulted inadequately.
Yet that leaves just over three-quarters (76%) of Indian ITDMs feeling that they were consulted adequately, which is 12% higher than the global average (64%). This shows that Indian IT departments might be left out of decision-making less often than their equivalents elsewhere.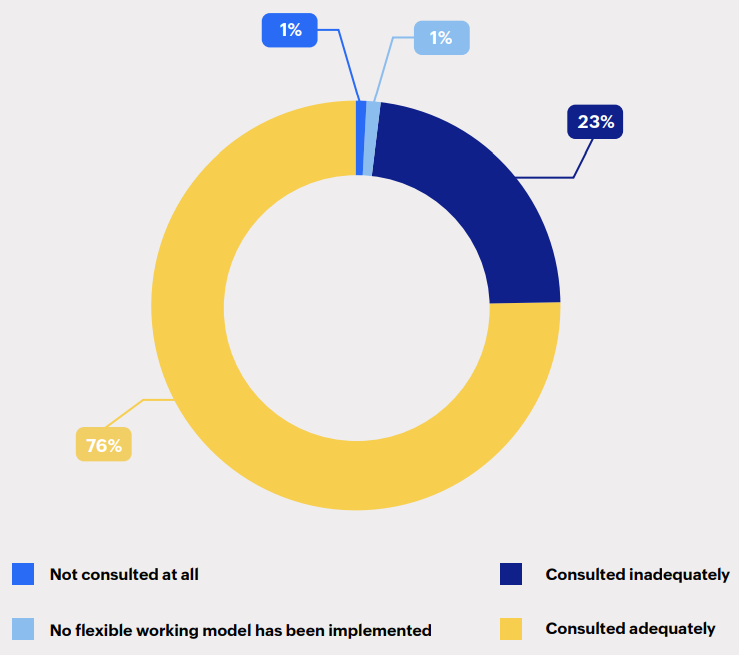 Nearly all BDMs (98%) surveyed have also invested in AI and ML and are doing so for more than one use case on average (as shown in the figure). Automation is the most common use case (64%), and cyberattack prevention follows close behind (59%).
The study also showed that 91% of all respondents agree that AI and ML technologies will play a significant role in strengthening their organization's IT security framework in the near future.

Key Insights For Product Leaders
ManageEngine's The IT at Work survey gives a great insight for people selling to b2b companies. 
The 'democratization of IT' has truly begun in the Indian market. While business-decision makers seem to turn to the IT department for their advice, the majority of decisions to purchase new products and services and drive innovation for the company is taken by the non-IT leader.
So product leaders and sales team might have to retarget who they sell their products to as the decision making teams are decentralized and ever changing in the tech landscape.
On the other hand, if IT decentralization is to continue successfully with flourishing innovation and departments across the business taking full advantage of the technologies available, organizations will need to work hard to retain their tech talent, or else to expand the technological knowledge of their non-IT business departments.