A staggering 65% of Indian public sector CDOs are placing a strong emphasis on crafting a comprehensive data strategy for the forthcoming year, as per the research from Qlik, a US headquartered data analytics and business intelligence company
However, data strategy isn't the only concern on their minds. Nearly 55% of these CDOs are also keen on establishing governance boards and building robust enterprise data architectures, reflecting a cautious approach driven by the changing regulatory environment.
This shows that governance has become fundamental to shaping data strategy, with many public sector organizations allocating more resources to governance than capability.
Governance Focus Can Stifle Innovation
Traditionally, data executives often reported through technology organizational leads. However, the study identifies a notable shift, with 58% of data executives now reporting through a security, risk, or compliance channel.
This shift highlights a cautious approach, with a reduced focus on innovation in data analytics. Meanwhile, nearly half of public sector agencies (46%) now use a governance title for their senior data executives.
"Our study provides valuable insight into the responsibilities and demands faced by CDOs in the public sector today. While CDOs have never been more important, they play a critical role in the overall infrastructure of the public sector. The research clearly demonstrates how their job is rapidly evolving," says Geoff Thomas, Senior Vice President, APAC, Qlik.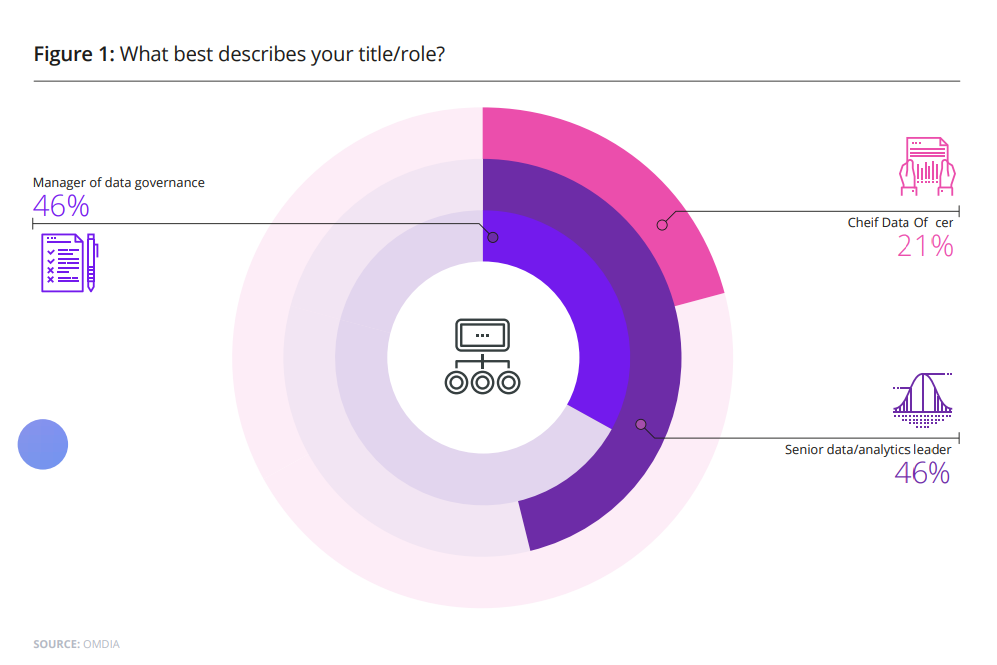 CDOs in India have developed strong data governance, management, and analytics capabilities to use data for policy making and service delivery. A remarkable 71% assert possessing data governance capabilities, while 65% affirm their adeptness in data management. For data analytics capabilities, the figure stands at a notable 58%.
However, a discerning observation emerges; while their competence in strategizing and evaluating data maturity is robust, their enthusiasm for data analytics innovation seems to have taken a backseat.
This is reflected in their top priorities for the upcoming year, wherein defining data strategy (65%), instituting governance boards (55%), and crafting enterprise data architectures (55%) reign supreme. These goals rank higher than more innovation-oriented goals, such as deploying analytics tools, decommissioning old technologies, or publishing open datasets.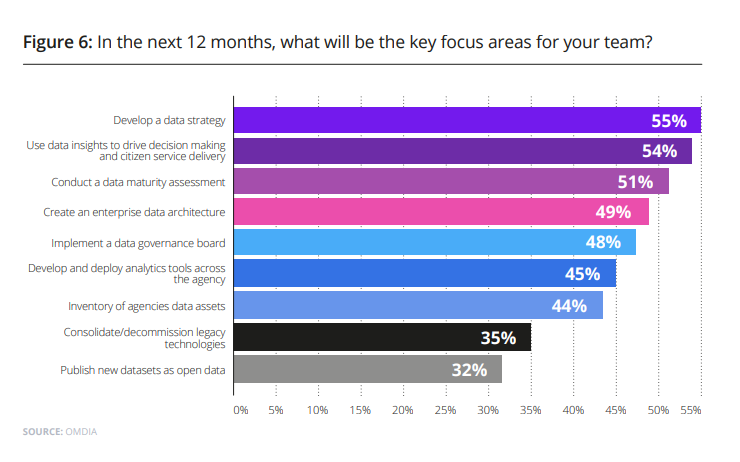 Value of Data is understood, but struggle persists in dissemination
Every journey is accompanied by challenges and opportunities, and the CDOs' expedition is no exception. By the year 2023, over 90% of Indian public sector organizations have introduced governance frameworks.
However, merely 35% of them regard their frameworks as mature, while 63% are still in the process of maturing their frameworks. A small faction (2%) has yet to embrace any data governance practices. These figures cast light on the uphill battles CDOs face, including the need to modernize applications (65%), address privacy and security apprehensions (64%), and tackle the dearth of technical skills and support (56%).and 2% have not adopted any data governance practices.
These figures cast light on the uphill battles CDOs face, including the need to modernize applications (65%), address privacy and security apprehensions (64%), and tackle the dearth of technical skills and support (56%).
Amid these challenges, Geoff Thomas, a sage voice in the realm of data, remarks on the shifting focus of CDOs. "Critically, they are increasingly focused on addressing risk rather than seizing on opportunities when it comes to data. To overcome this cautiousness, CDOs need to realize and maximize the return on data and analytics," he says.
Thomas notes their inclination towards risk mitigation rather than seizing the full potential of data's opportunities. He advocates for a paradigm shift, where CDOs embrace the value that data and analytics can bring. Moreover, he underscores the expanded scope of CDOs' roles in the present regulatory milieu.
Geoff Thomas also shared his views on how CDOs can leverage data analytics for innovation and impact. He said that while multi-cloud deployments are becoming the standard across the continent, with India leading the way with only 2% of firms claiming to utilize only one cloud platform , there is still a significant disparity between countries in terms of how well their data goals and objectives are recognised and understood.
Organizations value analytics but skimp on capabilities
On the other hand, the report suggests that CDOs should adopt a more proactive and collaborative approach to data governance, involving stakeholders from across the organization and aligning data policies with business objectives.
CDOs should foster a culture of data literacy and empowerment within their organizations, enabling staff to access, understand, and use data effectively for decision making. They should explore new technologies and platforms that can enhance their data capabilities and enable them to deliver more value-added services to their customers and citizens.
Varun Babbar, Managing Director – India & SAARC, Qlik, also shared his views on how CDOs can leverage data analytics for innovation and impact.
He said, "While data sharing and open publishing benefits are widely recognized in the public sector, enabling seamless connectivity and data integration across agencies can foster service development. Integrating data management policies and procedures directly into analytical systems is equally important, especially since India established its 1st Data Protection Act. This approach promotes dissemination and encourages a 'learning by doing' mentality, ensuring data sharing and utilization become integral to operational efficiency."
Insights from Qlik's senior executives and Omdia's principal analyst, who shared their perspectives on the data landscape in the public sector. Al Blake, Principal Analyst, Omdia, said CDOs should be promoting the value of data across their businesses to drive service development.
"Indian organizations are embracing robust data governance and delineating precise roles and goals for their data. It's encouraging to witness CDOs operating in an era of clarity where the significance of data and analytics is recognized. However, the challenge lies in amplifying this value across the organization to drive service development and strategic implementation. Integrating the CDO role remains a work in progress, especially in harmonizing governance and innovation," says Blake.
This mirrors a default view across the sector that data is a 'risk to be managed' rather than an 'opportunity to be exploited'.
The report on 'Driving Data in the APAC Public Sector: Balancing Governance and Innovation' is commissioned by Qlik, a data analytics and business intelligence company. The study surveyed 326 senior data executives within the public sectors of Australia, India, and Singapore.